Silencing the Self Across Cultures: Depression and Gender in the Social World
First Edition Edited by Dana C. Jack and Alisha Ali
Oxford University Press March 2010
This international volume offers new perspectives on social and psychological aspects of the complex dynamic of depression. The twenty-one contributors from thirteen countries - Australia, Canada, Finland, Germany, Haiti, India, Israel, Nepal, Poland, Portugal, Puerto Rico, Scotland, and the United States - represent contexts with very different histories, political and economic structures, and gender role disparities. Authors rely on Silencing the Self theory, which details the negative psychological effects when individuals silence themselves in close relationships and the importance of the social context in precipitating depression. Specific patterns of thought about how to achieve closeness in relationships (self-silencing schema) are known to predict depression. This book breaks new ground by demonstrating that the linkage of depressive symptoms with self-silencing occurs across a range of cultures. We offer a new view of gender differences in depression situated in the formation and consequences of self-silencing, including differing motivational aims, norms of masculinity and femininity, and the broader social context of gender inequality.
Silencing the Self: Women and Depression
Jack, Dana. Cambridge, Ma: Harvard University Press, 1991. Paperback, 1992, HarperCollins. Reviewed in the New York Times Book Review, The London Times Literary Supplement, Harvard Educational Review, Women's Review of Books, Choice, The Boston Globe, The New Republic, Medical Humanities Review, Transactional Analysis Journal, News for Women in Psychiatry, Contemporary Psychology, Mirabella, and numerous others. A Behavioral Sciences Book Club selection.
Translations: German: 1993 Wilhelm Heyne Verlag, Munich.
Transl: Ilse Utz; French: 1993 Le Jour; Sogides. Transl: Marie Perron; Italian: 1996 La Tartaruga edizioni, Milano. Transl: Bianca Piazzese; Chinese 2000
Behind the Mask: Destruction and Creativity in Women's Aggression
Jack, Dana. Cambridge, Ma: Harvard University Press. November, 1999. Paperback, 2001. Translations: Chinese, (Simplified characters), 2001. North Literature and Art Press for People's Republic of China. Chinese, (complex characters), 2002. Hangzhong Publishing House of Taiwan. Reviewed in Contemporary Psychology, Psychology of Women Quarterly, Feminism Psychology, and others.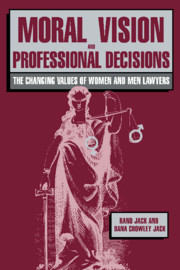 Moral Vision and Professional Decisions: The Changing Values of Women & Men Lawyers
Jack, Dana. New York: Cambridge University Press, 1989. Co-author, Rand Jack. Reviewed in the Nation, The New York Times, American Bar Association Journal, and numerous others.
Cultural Perspectives on Women's Depression: Self-Silencing, Psychological Distress and Recovery
With co-editor Alisha Ali, Dana is finalizing the manuscript for this book which includes chapters by authors from 14 different countries, to be published by Oxford University Press early 2010.